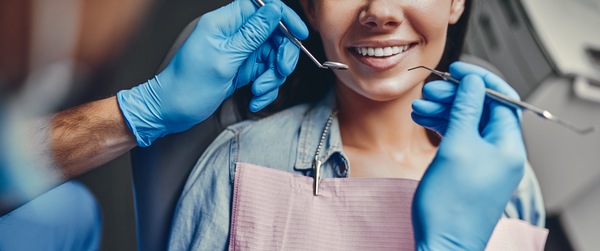 Have you ever wondered why it is so important to go to the dentist every six months? It is not an arbitrary time frame, and it turns out that those check-ups do a lot for your smile, your mouth, and your overall health. Attending regular dentist visits is an important way to keep your teeth and gums healthy, but that is not the only benefit. When you see your dentist for routine dental exams, your dental team can identify any potential issues before they develop into full-blown problems. Each type of dental check-up is crucial in terms of overall oral health, so read on to learn more about the importance of each visit!
General Dental Check-Up
Every routine dental exam should include a check-up. This part involves a dental professional looking over your teeth, your gums, and an exam of your throat, face, head, and neck. The general check-up also includes a thorough cleaning of your teeth.
Gums
Your gums should be thoroughly examined to gauge the depth of the spaces between your teeth. When spaces between the teeth and gums are too deep, this is a sign of gum disease. Additionally, other conditions may present along the gum line, like mouth sores.
Dental X-Rays
X-rays are another common dental exam because they allow your dental team to examine the spaces between your teeth for signs of cavities. Not every cavity is visible on the fronts or tops of your teeth; many occur between teeth, where it is difficult to brush and floss.
Plaque and Tartar
Plaque buildup is common, especially in places that are tough to reach in your mouth. Tartar is the result of plaque hardening on your teeth, and it cannot be removed by brushing and flossing. Your dental team can identify plaque and tartar and reach those difficult spots to remove it.
Scaling
Scaling is part of the cleaning process that removes plaque and tartar. Using a special tool, your dental hygienist can remove the plaque and tartar without harming your teeth.
Teeth Polishing
Polishing your teeth leaves them looking clean and shiny, and feeling like it too! It helps with any surface stains and makes your mouth feel fresh.
Routine dental visits are a crucial step in maintaining good oral health. They offer additional benefits other than just identifying potential problems, too! Think about how amazing your teeth feel after that professional teeth cleaning. This is because all of the wear and tear gets swept away, and you're left with healthy teeth ready to take on the world (or all of the food and drink you expose them to!). Furthermore, your gums will be much healthier. Gums are soft tissues that are susceptible to things like cuts and scrapes or cancer. Your dental team works on your gums when you visit to keep them healthy and strong. Healthy teeth and gums usually lead to fresher breath and better overall health. Our professional team at The Pampered Tooth can make recommendations just for you to help refine your oral care routine. If we notice some inflammation along your gum line, we can make suggestions to help you correct the issue before your next visit!