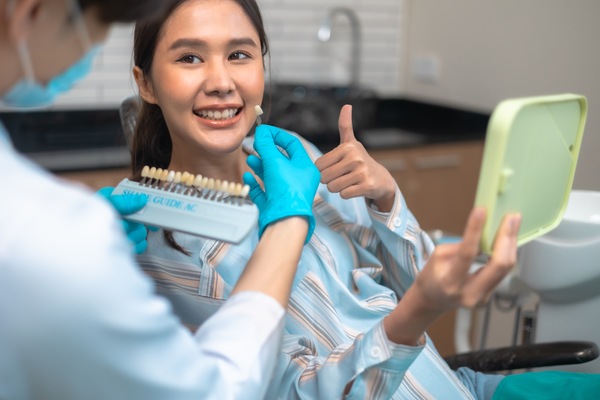 At Pampered Tooth in Port Orange, Florida, we believe there are many advantages to choosing a private-practice dentist and building a long-term relationship with the same provider. Finding the right dental provider and sticking with them over many years can have a tremendous positive impact on your overall oral health and quality of care. Here at our cozy private practice, our experienced dentists and caring staff get to know you personally and cater to your unique needs. We believe choosing our office and remaining with us long-term gives you the best chance at maintaining your dental health with a provider you trust. Here are some of the key benefits:
Continuity of Care
When you consistently see the same dentist over many years, they will get to know you and your unique dental needs. This continuity of care allows for more personalized treatment recommendations tailored specifically for you. Your dentist will have your records on hand, be familiar with pre-existing conditions, and remember details about past procedures. Ongoing care with a provider who knows your history can lead to better preventative care and earlier problem detection. Having a comprehensive understanding of your oral health over time allows your dentist to track changes, identify issues sooner, and provide preventive care customized to your needs. This personalized approach simply isn't possible when bouncing between dental providers or starting fresh at each visit. Continuity builds familiarity and trust, leading to higher quality care.
Flexibility and Attentiveness
Private practices like ours do not face the same pressures or restrictive policies as large corporate dental chains. We have more flexibility in treatment options and scheduling. Appointment times are not rushed, allowing for thorough exams and detailed discussions. You will enjoy an unhurried experience where your needs come first. We make sure to allocate enough time to properly assess your oral health, discuss findings, and consider all treatment paths. This leads to more attentive care focused solely on your dental needs, rather than corporate metrics. At Pampered Tooth, we prioritize the people we serve. You'll get the focused, personalized attention you deserve.
Excellent Customer Service
We pride ourselves on providing excellent customer service in a comfortable setting. Our goal is to develop true partnerships with patients built on trust and transparency. You are not just a number - we take time to explain all treatment options and answer any questions. Our staff gets to know you personally and caters to your individual needs. From the moment you walk through our doors, our friendly team will make you feel at home. We want you to feel cared for and understood. Our office prioritizes open communication, taking time to listen to any concerns and clearly explaining your options. You can expect a warm, personalized experience focused on your total comfort and satisfaction. We see every patient as a valued individual, not just a quick appointment.
Convenience
Staying with the same dentist over time is simply more convenient. We will already have your insurance information, be familiar with your schedule, and you'll know what to expect at appointments. You can be rest assured the quality of care will remain high over the years. Sticking with our office long-term saves you time and hassle. There's no need to fill out new patient paperwork or repeat the same information at each visit. We have your dental history down pat, so no need to try recalling old X-rays or procedures. Appointments are fast and efficient for regular patients. You'll spend your time on what matters most - your dental health and care. Continuity with the same provider makes your visits as smooth and seamless as possible.
Comprehensive Dental Records
There is great value in having your complete dental records all documented in one place. A long-term dentist who can access your X-rays, past procedures, and dental history has a much clearer picture of your oral health. They can notice negative changes quicker and address problems sooner. Complete dental records enable accurate tracking over time. We can compare new X-rays to old ones, evaluating changes down to the smallest detail. Comprehensive history provides vital context, allowing us to make the right decisions. It also eliminates redundant procedures when past records are unavailable. When all your dental data is housed together, you benefit from more vigilant monitoring and better care.


A Dental Home for Life
At Pampered Tooth, our mission is to provide personalized, compassionate dental care to Port Orange families for years to come. Our patients truly feel like family. We aim to make each visit comfortable and stress-free. By choosing our private practice and sticking with us long-term, you can optimize your oral health and have a trusted dental home for life. We strive to make Pampered Tooth a relaxing, caring place you look forward to coming to. Our goal is to support your oral health at every age and stage of life. We want to be your dental home where you feel at ease. Our team will always go above and beyond to ensure your complete comfort and satisfaction. We look forward to providing you with attentive care and establishing a lifelong partnership.