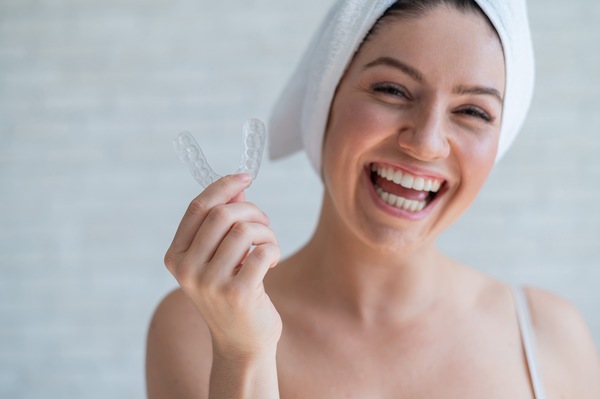 Have you been suffering from symptoms of bruxism (teeth grinding and jaw clenching) and are finally ready to do something about it? Talk to your Port Orange dentist to learn more about how a night guard can help you get better sleep and protect your teeth from long-term damage.
What Is Bruxism?
Approximately 20% of adults suffer from a condition known as bruxism in which they are prone to grinding and clenching their teeth, often in their sleep. People who suffer from this condition usually feel pain or tension in their jaw muscles upon waking up along with teeth sensitivity and worn-out teeth.
What Can a Night Guard Do to Help?
A custom-made occlusal night guard can help eliminate the symptoms of bruxism along with relieving you from teeth and jaw pain that occur because of it. A night guard acts as a barrier between your top and bottom teeth and protects them from the impact of grinding and clenching.
How Can It Effect Your Sleep?
Not only can the symptoms of bruxism interrupt and disturb your sleep but they can also make you feel groggy and unpleasant when you wake up due to not getting a good night's rest. A night guard can help improve your sleep by reducing the stress on your jaw muscles and relieving you from headaches and jaw pain.
Can Night Guards Prevent Tooth Damage?
Bruxism can cause considerable damage to your teeth in the form of chipping and cracking. This damage can reach to an extent where you may end up requiring fillings and other costly procedures.
Talk to your trusted and experienced Port Orange dentist at The Pampered Tooth and allow them to find a solution that can protect your teeth, eliminate your pain, and help you get better sleep. No insurance, no problem – we are still happy to serve you so call us now to learn more about our dental services.